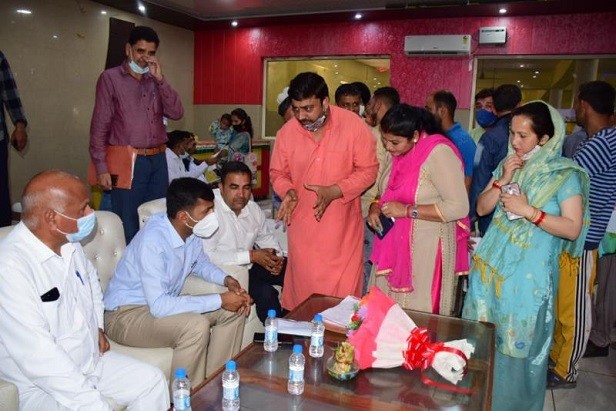 JAMMU, MARCH 16: Deputy Commissioner, Anshul Garg today attended a public outreach programme- (Block Diwas) here at Mishriwala in presence of DDC Chairman Bharat Bhushan and DDC Vice Chairman Suraj Singh.

Delegations from different Panchayats, besides scores of individuals apprised them about the problems being faced by them in day to day life. The PRI members, one by one, highlighted the issues regarding their respective Panchayats which were mainly related to irregular supply of water and electricity, ration cards, IAY, Road connectivity, upgradation of schools, health centres etc.

The Deputy Commissioner gave patient hearing to the PRI members, delegations and individuals and passed on the spot directions to the concerned officers for early redressal of their genuine grievances.

He assured that the highlighted issues of public importance will be taken up with higher authorities besides all the pendency and public service delivery slackness shall be reviewed thoroughly.

Speaking on the occasion, the Deputy Commissioner said that Weekly Block Diwas is an opportunity to get first hand information regarding the issues/problems being faced by the people.

The Deputy Commissioner also impressed upon the officers to work with zeal to achieve the targets ensuring the delivery of the benefits to the rural masses. He said that the motive of this public outreach program was to reach out to the people and understand their problems.

The Deputy Commissioner also handed over the land pass books to the land owners besides Kissan Credit Cards and Ayushman Cards on the occasion.

He said that District Administration has started around 14 online services in order to provide speedy and on time facilities to the general public at their door steps.

He also appealed to the people to adopt online mode to get their work done through these services.