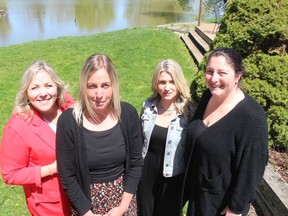 Article content
Low pay and high stress has taken a toll on those in the childcare industry but, on Monday, thousands of registered early childhood educators across the region received some much needed affirmation for the important work they do.
Article content
More than 4,000 people took part in Heartwork and So Much More, an online, daylong professional development day hosted by the Municipality of Chatham-Kent.
"I'm thrilled to death," Kelly Emery, Chatham-Kent's director of childcare and early years, said about the participation in the event.
She noted the session was initially planned for only Chatham-Kent childcare providers but several other municipalities in the region accepted an invitation to take part. They included the cities of London, Brantford, St. Thomas-Elgin, the Region of Waterloo and the Regional Municipality of Niagara, along with the counties of Middlesex, Lambton, Oxford, Simcoe, Norfolk, Brant, Grey and Huron.
Based on the comments received during presentations, early childhood educators were thankful for the event and the chance to discuss many topics, Emery said.
"I think people are feeling validated and they're feeling heard. That's what we wanted," she said.
Pressing issues discussed during the conference included the increasing feeling of burnout suffered by roughly 65 per cent of early childhood educators and the thousands of positions left unfilled as people have left due to such issues as stress and low pay.
Sarah Tomlin and Kristina Mariconda, who have worked 12 and 10 years respectively at the Kids' Stuff Family Learning Centre in Chatham, were excited to have the professional development day that featured several presentations, including a conversation with Canadian Olympic boxer Mandy Bujold.
Article content
"We often think about the sense of belonging and the well-being of the children, which is top priority," Tomlin said, "but the tone of the day was really geared toward our mental health, our goals, our concerns and the importance of showing up and how we show up every day into our role."
Mariconda added, "I think it's huge just to show the acknowledgement in what we do every day."
The sessions were facilitated by Dr. Jean Clinton, a clinical professor with the department of psychiatry and behavioural neurosciences at McMaster University, who said the work in this sector is essential but undervalued.
"It's not going to be suddenly valued by others outside of the field without the deep, profound voices of you in the field, as well as absolutely grabbing the parents who recognize the essential nature of the work, but who may not know how undervalued it is," she said.
Clinton also offered words of encouragement: "We know you; we see you,;we value you so much."
Early childhood educators are among the growing segment of the "care economy" – those who care for vulnerable members of society from children to seniors.
Emery said there needs to be a better understanding of the value of those working in this sector.
"That's the piece we need to identify and really recognize the work that's being done," she said.
When it comes to increasing awareness about the value of the profession, Tomlin said people should be screaming "from the rooftops about early development and how important that is in laying the foundation for future learning."
Article content
She added early childhood educators play a pivotal role in laying that foundation.
Mariconda said an important role early childhood educators play is "giving parents that sense of calm … that we've got your children; we can take care them."
Tomlin said more pay would certainly help alleviate some of the stresses of the job.
When it comes to coping with a shortage of educators, Tomlin described it as a "team effort."
"We all pull together and we make it work," she said.
Mariconda added, "We're there just to support each other at the end of the day."
Lori McDonnell, program supervisor at Kids' Stuff, said a professional development conference has been a long in coming for registered early childhood educators.
"I can see (an infusion of energy) already," she said, "and it won't just end here. We will continue going off of the content we were presented today and it will be an ongoing conversation – keep the vibe going forward."
eshreve@postmedia.com